Government House

News and Publications

Words Matter: A Vice-Regal Word Cloud
Back to Latest news
Words Matter: A Vice-Regal Word Cloud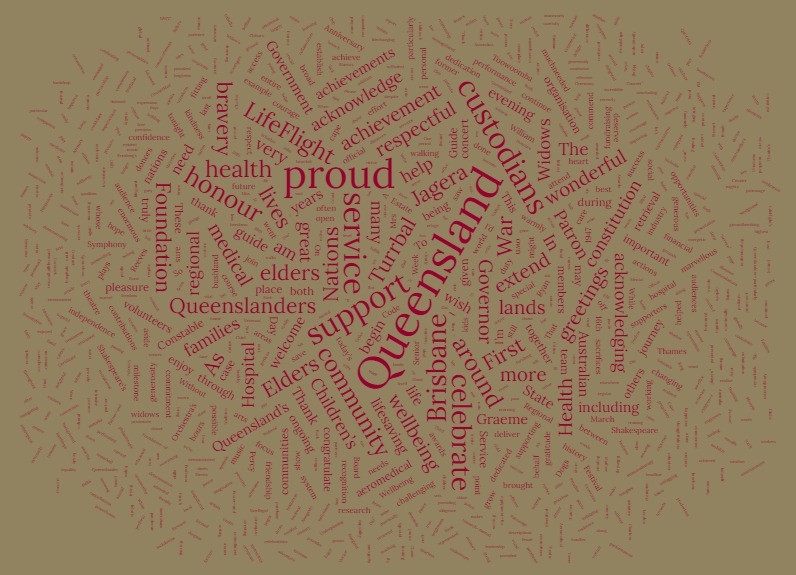 In the many thousands of words spoken by Her Excellency in speeches and public engagements over the course of her first year as Governor, certain words have tended to repeat.
These words are overwhelmingly positive, indicative of her areas of interest and focus, and of course tell us much about the types of organisations and individuals she addresses.
Words like "Queensland", "proud", "celebrate" and "achievement" have risen to prominence in our Vice-Regal word cloud, taken from just a sample of the 267 speeches Her Excellency has delivered in the past 12-months.
In some of the words, we see the sense of duty she carries to each and every engagement, including "service", "honour", "support", "acknowledge" and "bravery".
These are a nod not only to the Governor's important constitutional role, but to her ceremonial and civic responsibilities also.
The word "regional" rises to prominence, too, as the Governor looks to fulfil her pledge to visit Queenslanders wherever they live across our vast State.
"Health", "wellbeing" and "hospital" are visible, given the Governor's abiding interest in, and passion for, promoting a healthy and active State and her commitment to visiting our public hospitals to thank Queensland's frontline healthcare workers.
And we see the words "Elders", "First", "Nations" and "custodians" front and centre in the cloud, representative of her efforts toward reconciliation with First Nations people, and promotion of Indigenous health and literacy.
In short, words matter, and these are some of the words that matter most to Her Excellency.